2020 Fall Hawaii Teams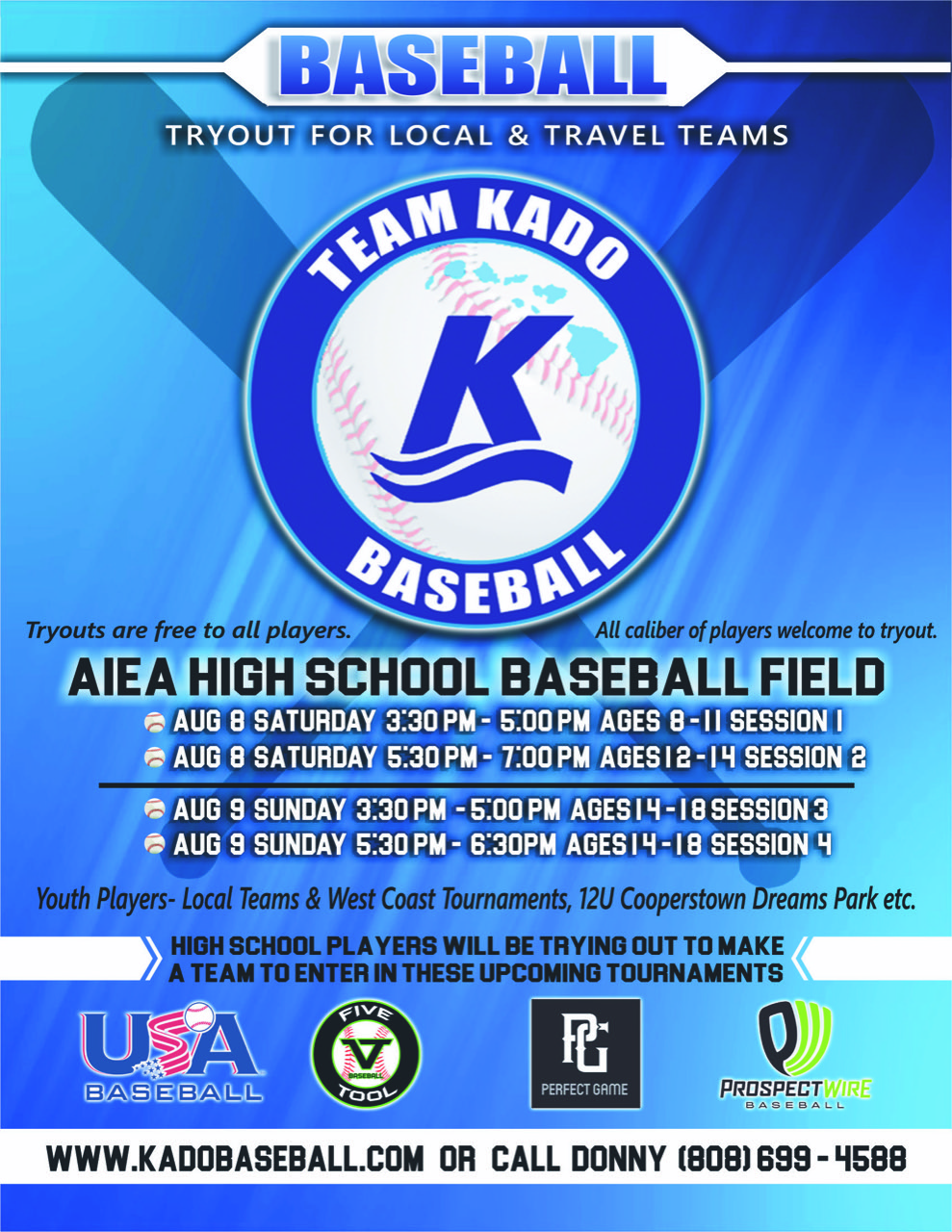 2020 Spring California Teams
To all players and parents,
We, at Kado Baseball, are dedicated to the advancement of youth baseball players and to assist our players in becoming well-rounded individuals while achieving their athletic goals. I have over 20 years of coaching experience at the high school and collegiate levels, and I take pride in having the best coaching staff around, providing unparalleled instruction. We demand that our players develop their fundamental skills through emphasizing technique and work ethic. Our moto is "Keepin' Baseball Baseball," because so many life lessons can be learned through the game. Baseball is a beautiful sport and our brand of baseball involves a method that has produced numerous standout high school, college and professional baseball players.
Kado Baseball is trying to form teams from 10u-14u for the spring season. We will have multiple teams per age group and players will be placed on teams by caliber of play and positions we feel they will succeed at. We are planning on having 12-14
players on each team if possible just in case kids have conflicts during the spring season.
Our travel ball teams will play from January 22, 2019 to May 25, 2020.
[1] Hitting Practice
Hitting practice will be held one day a week on Wednesday evenings at:
The Foundry/ Team Kado
2575 E Bayshore Rd.
Redwood City, CA 94063
Phone: 800-494-1319
Each session is approximately 60 minutes. We will have 2 hours of hitting please try to come at your assigned slot so we do not have an overload in one hour vs. the other hour.
| Wednesday Time Slots | Teams |
| --- | --- |
| 6:00pm to 7:00pm | 13 Columbia and Younger |
| 7:00pm to 8:00pm | 13 Navy -14u |
[2] Field Practice
Teams will have field practice twice a week Tuesday at Baylands Sports Complex 1900 Geng, Palo Alto from 6-8pm and Fridays 7-9pm at 155 El Camino Real Soccer field across Stanford Shopping Center.
[3] Fees
Total for season $1650 for Registration/Practice Only. Tournaments will be charged separate.
Team fees for the Spring EVERYONE WILL PAY : $250
Spring Registration Fee – which includes team insurance, field rentals, cage rental team equipment and other miscellaneous expenses.
Practice Fee January 22, 2020 to May 25, 2020.
Note we will not practice on holidays, and also during spring break.
Tournaments we will play 6-8 tournaments in the spring. Players will only be charged for tournaments they play in. $110 for 3gg local tournaments. $125 for the larger 4gg tournaments (perfect game etc)
Players will be asked to practice 2 field practice and 1 hitting per week $1400
[4] Uniforms – Optional if you have last years
Kado 2 Hats @ $20 each
Kado A4 set white, navy, Columbia Set $60
Kado Shorts $20 Optional
Spring Kado 13U and 14U Schedule
Feb 28-29 13U Columbia ALL World
March 7-8 13U Navy ALL World Fremon
March 14-15 13U Columbia and 14u ALL World Morgan Hill
March 21-22 13U COLUMBIA AND 14U NCTB
March 28-29 13U Navy NCTB
April 4-5 13U Columbia and 14u NCTB
April 18-19 13U Navy NCTB
April 25-26 13U Columbia All World
May 2-3 13U Columbia and 14u NCTB
May 16-17 13U Navy NCTB
May 23-25 13U Columbia, 13u Navy, 14u NCTB
Payments:
Payments can be made online with credit card or check payable to Donny Kadokawa. All players must register online for the Spring Season. If you would like to pay by installments we will offer that online.
If you need help on registration please email: techteam@kadobaseball.com
Please feel free to contact me if you have any questions.
Thank you in advance,
Donny Kadokawa
www.kadobaseball.com
650-533-4965