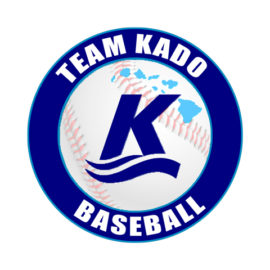 KADO Baseball Future Series Teams

Representing Team Kado (11U) Players Born in 2008 and 12u players born in 2007 in Irvine, California on May 15-17, 2020.
We will be taking one team per age group. Players must arrive one day ahead of schedule and we are working on college visits to Fullerton and Long Beach State during the trip. Please note this is an invitational tournament that will be super competitive. Only 16 teams will be playing in this tournament. Please note all player will get a hat, jersey and shorts.
As a reminder, the cost of the event is $475/rostered player with a minimum of 13 rostered players.
Please note players will pay a non re-fundable deposit of $175 online. Contact Donny Kadokaw at 808-699-4588 or email Donny@kadobaseball.com with questions.
HOTEL INFORMATION
Team Name: Team Kado
Hotel/Resort: DoubleTree Irvine – Spectrum
Arrival Date: May 14, 2020
Departure Date: May 18, 2020
Bedding Type: 2 Queen Beds
Price: $129 per night + tax
Breakfast: Not included in the rate – discounted to $12.00 per person
Amenities: On-site guest laundry (coin), complimentary internet access, outdoor pool, fitness center, mini-fridge in every room, shuttle to/from Irvine Spectrum shopping center
Click Here to Reserve Your Hotel
**If you receive a message indicating that no lodging options are available, please adjust your arrival and departure dates to those listed above. If your dates differ from those listed above and are not available in the online system, please list the team dates provided to make your reservation and note your requested dates under the "Additional Requests" section. You can also call USA Baseball Travel Services for assistance.
RESERVATION DEADLINE: All individual reservations must be submitted via the Team Hotel Reservation Link no later than April 23, 2020.
Important Details:
Please make your individual room reservations utilizing the "Team Hotel Reservation Link" or by calling USA Baseball Travel Services.
Do NOT call the hotel directly, as they will not accept reservations for this event.
The hotel reservation deadline is May 28, 2020.
If you are reserving a room after the hotel reservation deadline, please call the USA Baseball Travel Services line at 919-433-9759.
USA Baseball and its hotel partners strongly advise against using a Debit or Check Card (linked directly to a bank account) when checking into a hotel or making an online reservation.
If you have any questions, please call USA Baseball Travel Services at 919-433-9759 or email travel@usabaseball.com. Please note that the USA Baseball Travel Services hours are 9 AM – 5 PM, Monday – Friday.